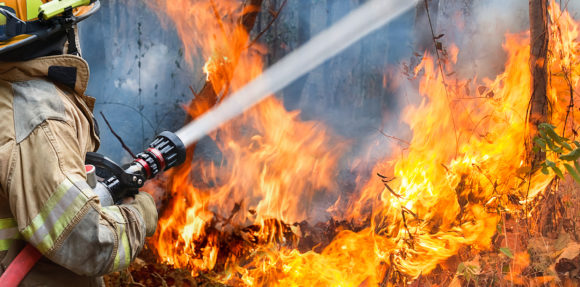 New Mexico Superintendent of Insurance Russell Toal and American Property Casualty Insurance Association President and CEO David A. Sampson are urging Congress to act quickly to pass the Hermit's Peak Fire Assistance Act so residents impacted by the fire have the resources to rebuild and recover.
"Regretfully these wildfires were avoidable, but with the Biden Administration quickly taking responsibility, the federal government will cover 100 percent of the eligible costs to communities and residents over the next three months to assist with debris removal and other recovery efforts," Toal said in a statement. "But more must be done. We urge Congress to work together on an expedited passage of the Hermit's Peak Fire Assistance Act in order to give residents all the help they need, providing resources for those that lost their homes, businesses, and other property; including those who were uninsured for wildfire risk."
The Hermit's Peak Fire merged with the Calf Canyon Fire to create New Mexico's largest wildfire in history. The wildfires started from an approved prescribed fire planned by the U.S. Forest Service in the Santa Fe National Forest. The fire charred more than 340,000 acres.
"At the onset of these terrible fires, APCIA and our member companies have been working with Superintendent Toal and his team to help assist our policyholders and serve as a resource to all those affected," said Sampson.
Superintendent Toal and APCIA's Sampson further noted that as the monsoon season begins in New Mexico, flooding presents an increased risk for residents in areas recently impacted by wildfires.
Related:
Topics
Carriers
Mexico
New Mexico
Was this article valuable?
Here are more articles you may enjoy.
Interested in Carriers?
Get automatic alerts for this topic.